Novidades
School District NO.43 (Coquitlam) International Education and the Tri-Cities (June 22, 2008) The Tri-Cities newspaper published a noteworthy article looking at international education and its impact on the Tri-Cities. Please click here for more information.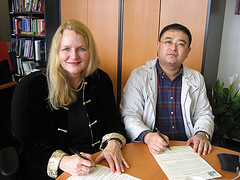 School District NO.43 (Coquitlam) International Education's Patricia Gartland (February 23, 2007) signs a Memorandum of Understanding for education, training and cultural cooperation with Mr. John Zhu, Director of Canadian-Sino Education Exchange Centre for Shengdong Province, PR China.
The International Education Program of School District NO.43 is pleased to announce that its Winslow Campus was approved January 23, 2006 as a certified test administration site for ETS (Educational Testing Service) Internet based tests the first of which shall be the new TOEFL (Test of English as a Foreign Language) iBT (Internet-Based Test) English Language Proficiency Examination.
International Student wins Prestigious award (May 4, 2005) A grade 12 international student at Dr. Charles Best Secondary has been awarded a "UBC International Leader of Tomorrow" Award.
Patricia Gartland, principal of International Education invited to be an ambassador for the city of Coquitlam (April 29, 2005) City of Coquitlam Mayor, Jon D.H. Kingsbury has extended invitation to be an Ambassador for the city.
Trustees approve new position (March 19, 2005) School District 43 will hire a marketing manager for its international education department this spring, to attract more overseas students for summer programs.
Moody Math scores add up to success (April 16, 2005)Port Moody Secondary mathematicians picked up some impressive rankings in the Canadian Math Competition.
Centennial Secondary ESL & International Students visit Indian arm (May 2005) Once again this year the ESL and International students had a fabulous trip up Indian Arm aboard Rod MacVicar's "Oceanwatch". On May 17th and 19th, two groups of 40 students traveled by boat to Twin Island where they hiked and learned about B.C coastal marine and plant life.